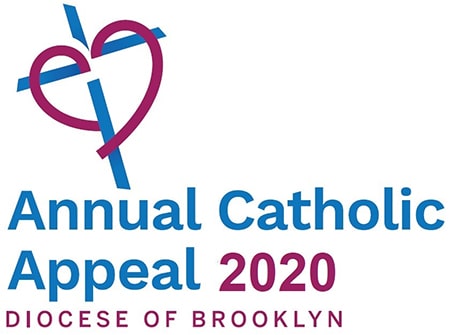 Contact Us ›
Donate ›
Gifts made to the Annual Catholic Appeal will provide support to tens of thousands of people in Brooklyn and Queens through key programs, ministries, and services administered by the Diocese of Brooklyn. Join us and answer the call by making a gift to the Annual Catholic Appeal.
Our Campaign
$0 - Donations Received

$8 Million - Our Goal
Impact of the Annual Catholic Appeal
Testimonials
"As a Priest and School Chaplain,

I want to give thanks to everybody who donates to the Annual Catholic Appeal for allowing me to realize my vocation and now to serve as a priest of God to His people in the Diocese of Brooklyn. The impact you have on the formation of priests through the Annual Catholic Appeal is real. I am evidence of this."

Fr. Ralph Edel, School Chaplain of St. Francis Prep.

"Giving to the Annual Catholic Appeal is rewarding…

We're very fortunate to be able to give to the Annual Catholic Appeal. We're called to be good stewards and administrators of the benefits and the gifts that we get from God, and so in that context, we try to set aside something that is meaningful to the Brooklyn and Queens community and the Catholic Church."

The San Juan Family, Parishioners of Sacred Hearts & St. Stephen Parish, Brooklyn

"As a youth minister,

I am here to work with the next generation of Catholics. I encourage you to support the Annual Catholic Appeal because I see the huge impact your gift has made on the individual young people I work with. Building a future for our parishes is a team effort and it's something that we all need to do together. "

Christina Penaloza, Director of Youth and Young Ministry, St. Sebastian Church, Woodside

"As a mother of a teenager,

I am so grateful to have a Youth Minister at my parish. This has allowed my daughter Ashley to grow closer to God and the church and to be involved in the Youth Ministry programs. Thank you to all those who donate to the Annual Catholic Appeal. It's not just giving money, but it's helping change the lives of our kids."

Deisy Jara Valladares, Mother of Youth Ministry Participant, St. Sebastian Parish, Woodside
Year-End Report to Donors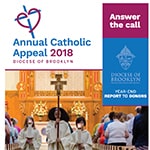 The Impact of Your Support
Our 2018 Annual Catholic Appeal Year-End Report gives a comprehensive picture of our donors' investments in action. The buttons below link to the 2018 report and a searchable database of donors who gave $100 or more. Thank you for all you do to help further the mission and ministries of the Church in Brooklyn and Queens.