Contact Us ›
Donate ›
None of us alone can make a full impact on the needs of our diocese. But, united, we can make great things happen! The Annual Catholic Appeal provides us with an opportunity to 
continue to provide hope through its mission of spreading Christ's love throughout Brooklyn and Queens.
This year, you are encouraged to be a beacon of light and hope to those less fortunate. By taking a leadership role in giving to the 2023 Annual Catholic Appeal and setting an example of Christian Stewardship for others to follow. Much has been given to us. In turn, we should give thanks by showing sincere concern for the mission and work of the Diocese in bringing the Gospel to those who need it most.  
Our world remains upended by economic uncertainty, political and social unrest. We stand in need of the gifts that only God can give us—the gifts of Unity and Hope! We ask you to prayerfully consider your gift to the 2023 Annual Catholic Appeal.
You will be helping the mission of the Church even further if you choose to make this gift as a sustaining donor by selecting the "Recurring/Ongoing" option when making your pledge online. The monthly commitment you select will automatically renew each year until you decide to stop this commitment. This will save time and money in the years to come, ensuring more of your gift is used to support the vital ministries outlined on this webpage. 
We are grateful for your partnership in the Lord's work and invite you to unite with your neighbors again this year in the Annual Catholic Appeal.
Who benefits from your donations? Watch these videos to learn more about the ministries supported by the Annual Catholic Appeal.
Our Campaign
$8.7 Million - Donations Received

$8 Million - Our Goal
Impact of the Annual Catholic Appeal
Testimonials
On the Road to Priesthood

"I was 12 when I felt a calling to the priesthood in my native Colombia, and I was fortunate to confirm this calling when I entered the House of Discernment of the Diocese of Brooklyn. I am now serving my pastoral year in Sacred Hearts and St. Stephen Church. After this assignment, I will return to the seminary for my third year and will continue until my ordination with God's grace and your support to the Annual Catholic Appeal."

Juan Herrera, Seminarian

Faith Formation

"I've been an Extraordinary Minister of Holy Communion since 1980. I feel so privileged in assisting our priest by serving Holy Communion, and I also receive great satisfaction in bringing Communion to the sick who are homebound or at a nursing home. It's very touching to see their reactions when they receive Holy Communion. Some people smile, and others may cry with joy since they cannot get out of bed or go to Church."

Gina Caridi, Our Lady of Mount Carmel, Astoria

An Investment for the Future

"As a youth minister, I serve the youth of our community in many ways: preparing altar servers, keeping them engaged in sports, and hosting prayer groups. We use dynamic and fun ways to teach them to love their faith and to value themselves and their families. Without the Annual Catholic Appeal, I would not be able to reach these young people and their families."

Leibniz Scottborgh, Youth Minister – Our Lady of Sorrows
Year-End Report to Donors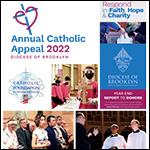 The Impact of Your Support
Follow the link below to see our Annual Catholic Appeal Year-End Report, which gives a comprehensive picture of our donors' investments in action. Thank you for all you do to help further the mission and ministries of the Church in Brooklyn and Queens.