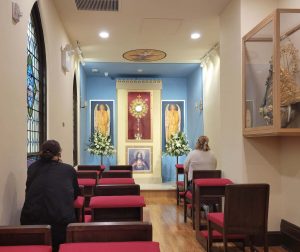 As we continue to rebuild our lives in Christ through the turmoil of the pandemic, nothing provides a better example of hope than the resilience of Our Lady of Sorrows parish in Corona, Queens.
The same day Father Manuel de Jesus Rodriguez was installed as the new pastor, a year after the parish was at the epicenter of the pandemic, another new addition to the parish was unveiled- the Perpetual Adoration Chapel.
Dedicated parishioners contributed additional funds for their parish through the Annual Catholic Appeal (ACA). Thanks to the generosity of many, the chapel was restored and beautified, and is now open 24 hours for the community to gather together and worship in the real presence of Christ. A long-time parishioner commented, "We are truly grateful as a community of faith here at Our Lady of Sorrows to have Father Manuel our new Pastor. His immediate presence, determination, and his willingness to provide support gave new life to the Parish."
Father Manuel continues to encourage all parishioners to take part in the ACA, noting "Here in Our Lady of Sorrows, we have lost over 100 parishioners to COVID-19. We needed to offer our parishioners consolation and at the same time offer a physical space for them to remember those we lost."
"We are very grateful for the Annual Catholic Appeal," Father Manuel added, "Even though we've had tremendous loss, our parishioners took this call to donate as something very personal."
The ACA not only allows parishioners to support the work of the larger Church of Brooklyn and Queens, but it also provides an opportunity for parishioners to come together to improve their parish at home. To learn more, visit www.annualcatholicappeal.org.