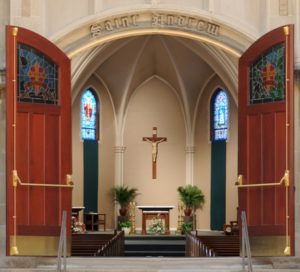 The Diocese of Brooklyn announced on June 19 that churches will be open for daily Masses starting, Monday, June 29. Sunday Masses can resume on the weekend of July 4-5.
"Soon we can come together to be nourished by the spiritual food we have been desperate for," Bishop Nicholas DiMarzio said in a statement.
There will be plenty of safety precautions in place:
Churches will only be permitted to operate at 25 percent capacity
Social distancing will be strictly enforced.
Everyone who enters church must wear a face mask
Social distancing will be enforced, during mass the "peace" will not be observed with the usual handshakes and hugs
In addition:
There should be no entrance procession for any Masses. The music ministry will be limited to the organist and a cantor who must practice social distancing. The cantor should not sing from the same place from which the lector reads. And there will be no choirs at Masses at this time.
There will be no missals, worship aids or other types of reading materials in the pews.
The diocese is strongly recommending that Catholics who attend mass receive Holy Communion in the hand, not the tongue. There will be no distribution of the Precious Blood.
Contact your parish directly for more information and safety guidelines.