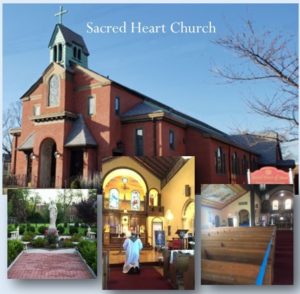 As our churches in Brooklyn and Queens begin to open after the COVID-19 pandemic, parishioners are reacting with joy as they once again can lift up their heart in prayer in their beloved churches, safely and socially distanced.  Kathleen Morrissey has spent her whole life – more than seven decades – in Sacred Heart Church in Glendale, Queens, and finally after 2 long months of not being able to pray at church, she came back home.
"I really need this," Kathleen says.  "I really need to be inside the Church."  Every morning, before the pandemic, Kathleen attended daily Mass and met with her parish prayer group.  Since the reopening of churches, she prays silently, sitting or kneeling only where marked tape tell the congregants where it is safely distanced, carrying hand sanitizer and wearing her mask.  But she is not alone – in the Church, are fellow parishioners and even prayer group members.  They give one another a gentle wave. Kathleen remembers, as she entered the Church on the first Tuesday since reopening, she saw a friend enter, and heard her audibly sigh with happiness and relief.  She was in God's house once again.
Like most churches in Brooklyn and Queens, Sacred Heart Church is open four hours a day, with strict limitations on the number of worshipers and where they can pray in the Church.  No holy water  or holy cards,  no touching the statues, even in prayer. The Church is cleaned thoroughly before opening at 7:30 am every morning and closes between 9:30 and 4:30 for additional cleaning.
The newly opened Church beckons all.  One day this week, Kathleen passed a man and his grandson, they exchanged a smile.  He remarked how beautiful the Church was and told her "when I come in here and sit down I feel like I am home."  "Guess what," Kathleen said.  "He wasn't a parishioner, he wasn't even Catholic."  But he was happy to be in the house of God.