By Monsignor Jaime Gigantiello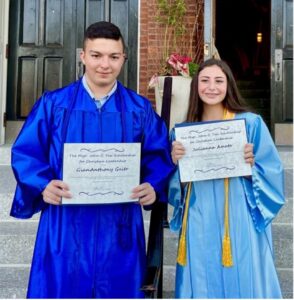 As we come into the new school year with a renewed sense of hope and invigoration in our Catholic schools, we are blessed with new opportunities to give our deserving students the gift of a Catholic education!
The Monsignor John C. Tosi Scholarship Fund for Christian Leadership was established with Catholic Foundation for Brooklyn and Queens this past spring in honor of the beloved and late Monsignor Tosi. The fund was made possible by the generosity of family, friends and parishioners of St. Luke parish in Whitestone where he served as pastor at the time of his passing. Monsignor Tosi strongly believed in and supported Catholic education. The fund provides an annual scholarship to one girl and one boy graduating St. Luke Catholic Academy to attend a local Catholic high school.
On June 10, 8th graders Julianna Amato and GianAnthony Gaito were announced the recipients of the first ever Monsignor Tosi Scholarship for exhibiting excellent academic standing and the spirit of Catholic service!
Julianna will be attending St. Francis Prep in the fall and is excited to explore St. Francis' art program to expand her love for sketch and design. She was honored to receive the scholarship, saying "It meant a lot to receive a scholarship in honor of Monsignor Tosi, who had been pastor for so long. I am happy to be a part of his memory!"
GianAnthony will be attending Holy Cross High School and is looking forward to getting to work in the science labs. When GianAnthony was born with a cleft palate, Monsignor Tosi played a special part in bringing prayer during the time of surgery. The Gaito family is thrilled to be receiving this scholarship, especially after Monsignor Tosi's involvement in their lives. "Thank you, a million times!" said GianAnthony.
Congratulations to both Julianna and GianAnthony on their outstanding achievements and we wish them the best of luck on the next chapter of their Catholic education journeys!