By Monsignor Jaime Gigantiello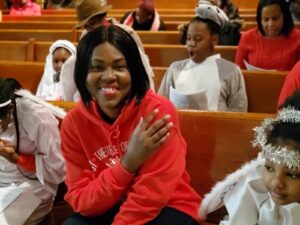 Elaine Tontoh always knew that being a youth minister was God's plan for her. Originally from Ghana, Elaine was part of youth ministry in her own parish, Star of the Sea. She was also a musical director as well as a mentor to several young boys and girls. Elaine was honored to help these young children find their purpose in God and in life.
After emigrating to the United States in 2011 with her husband to pursue educational opportunities, Elaine joined St. Francis of Assisi-St. Blaise Parish in Brooklyn, where she has been a cantor for the last 10 years. In 2019, Elaine was gifted the opportunity to continue her faith's mission as a youth minister at St. Therese of Lisieux parish and one year later also at St. Francis of Assisi-St. Blaise.
When asked what it means to be a youth minister, Elaine said, "Being a youth minister is my calling, and has been a blessing to me to fulfill my Christian mission of advancing the Kingdom of God and drawing more young souls to Christ. It challenges my everyday life to be a good example for the youth to emulate; to be a symbol of hope for young people who have lost faith in God; and to be a reminder to others that there are still young adult Catholics who love to serve God and to serve others."
After recently graduating with a doctorate in economics at the New School for Social Research, Elaine is excited to bring academia and current events to her youth. "As a youth minister, my recent academic and career achievements, during one of the most difficult times in history, reiterates to young people the essence of what Amanda Gorman says in her poem, The Hill We Climb: " For there is always light, if only we're brave enough to see it. If only we're brave enough to be it."
The Annual Catholic Appeal provides essential funds for our Catholic Youth Ministry Initiative and enables our talented and passionate youth ministers, like Elaine, to keep Catholic youth in our pews. To learn more about and donate to the Annual Catholic Appeal, please visit www.annualcatholicappeal.org.