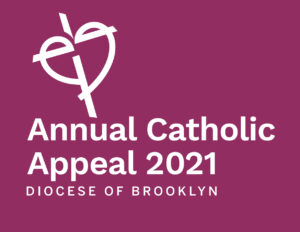 We as Catholics in Brooklyn and Queens rose to the occasion to address the unprecedented needs presented by the COVID-19 pandemic this past year. Thanks to your generosity, the 2020 Annual Catholic Appeal surpassed its $8 million goal! By accomplishing this feat, we gave much needed support to our Hospital Chaplains, allowed our youth ministry programs to continue and met the 2,000% increase in demand at many of our food pantries.
Ms. Lorena De Filippis, Director of Faith Formation at St. Clare Church in Queens, saw the impact that the 2020 Annual Catholic Appeal had on our Diocesan programs firsthand: "Like most things, the COVID-19 pandemic brought parish religious education programs to a standstill in the spring of 2020. However, thanks to the Diocesan Office of Faith Formation, funded by the Annual Catholic Appeal, Religious Education Programs in parishes throughout Brooklyn and Queens received the direction and support needed to continue teaching our children about Christ."
As we introduce the 2021 Annual Catholic Appeal this month, let us be reminded of how it has brought transformational assistance to our Catholic communities to carry out the Church's mission.
Your donation this year will allow us to build a better future for the Church while addressing the present needs of those in our communities, which no one parish or parishioner can do alone.  As the theme of our appeal reminds us: I am the Church, you are the Church, we are the Church, together! Thank you and God bless you!