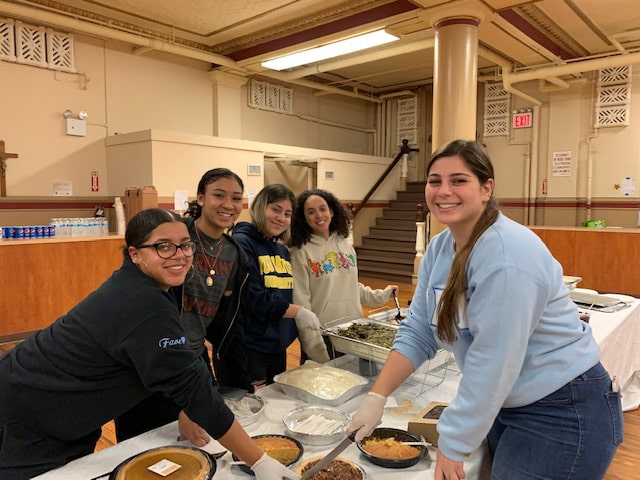 By: Rev. Monsignor Jamie J. Gigantiello
Vicar for Development, Diocese of Brooklyn
More than ever there is a need to engage with and share our Catholic faith with college students who are at a critical point in their lives.
Father Michael Callaghan, pastor of Assumption of the Blessed Virgin Mary R.C. Church, recognized this and set out to connect with students and build a faith community in the Brooklyn Heights and Downtown Brooklyn areas.
With the support of a grant from Catholic Foundation for Brooklyn and Queens, the parish organized a block party and cookout, and distributed prayer pamphlets and bibles to college students living in the area.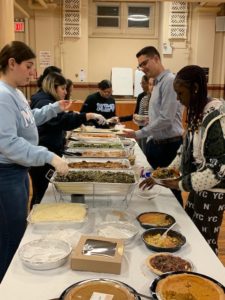 Parish visibility reached over 800 students, connecting to over 50 students directly! Since then there has been increased attendance by college students at Assumption and St. Boniface's Sunday evening mass, with some students attending weekday mass at 8am.
"We're looking to provide guidance and a welcoming church experience for these students, many who are not Catholic or from the NYC area," Father Callaghan expressed. "For young people spirituality is about helping them navigate life and feel grounded… anything we can do to help them find better footing as they look to make decisions in this phase of their life is good."
Today the parish continues to engage students through service and community-building activities. In November students partnered with parishioners to help clean the Assumption church campus, and the parish hosted a Thanksgiving dinner for students.
Romario Thomas, a senior and resident advisor at St. Francis College, has helped connect students to these church activities. "I have been helped a lot throughout my life… I feel the need to do the same thing for others. Even though students are sometimes hesitant to do community service, they get instant gratification helping through the church. Students tell me they feel at peace when they are at church and are grateful for the opportunity to help."
Wonderful programs like this play a critical role in deepening the faith of our college youth and ensuring the future of the Catholic church.