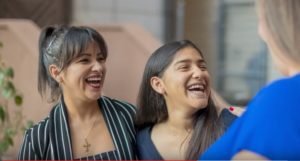 By: Rev. Monsignor Jamie J. Gigantiello
Vicar for Development, Diocese of Brooklyn
Along with a new theme for 2020, "We are the Church, Together", the Annual Catholic Appeal (ACA) is expanding its reach and will now be partially funding the Catholic Youth Ministry Initiative. The Catholic Youth Ministry Initiative, which ensures the future of our parish communities, plays a critical role in developing the faith of our youth and is already proving to have an impact on our children in Brooklyn and Queens.
"From the moment I came into the program my life started looking up – things started to change for me … all bright, all happy. I changed!" said Ashley, "I realized I could change!"
Ashley Ambrosi, a participant in the youth ministry program at St. Sebastian in Woodside, Queens, was quiet and very reserved before she joined the program. Ashley didn't have a strong belief in God and felt separate from the church. At the suggestion of her mom, Ashley began attending the youth ministry group at St. Sebastian. Over time, with encouragement and steady guidance from her youth minister, Ashley began to open up and became more involved in her youth ministry.
"Now she is involved in church and thriving." said Ashley's mom. "She's enjoyed the involvement with others, her youth minister, and she is starting to understand our faith, not just what we believe, but why we believe it – now she is a catechist assistant!"
Ashley's story is one of many. Not only do our youth programs provide youth with direction, it feeds their curiosity about the Catholic faith and brings them understanding of the role God plays in their lives.