Annual Catholic Appeal

The Annual Catholic appeal supports a variety of diocesan organizations.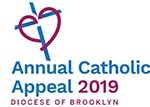 Annual Catholic Appeal for 2019 Begins Locally In early local meetings, parish's are beginning to get materials and information to help make this years appeal a success. See the many positive effects the ACA program funds have had on the lives
...